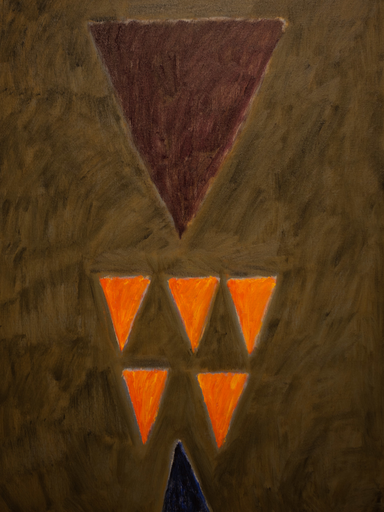 Timeless time of Paul us Spijkers / his abstract figuration
During his college days from 1985-1989, Paul Spijkers (1961) studied the science of law at Leiden University, The Netherlands (Rijksuniversiteit Leiden).
In 1988, he was in Gainesville, Florida, U.S.A., for a course at University of Florida, College of Law, together with 24 other Leiden students. During that period, in the Salvador Dalí Museum in St. Petersburg (Florida), he looked at a painting by Salvador Dalí: 'La noia dels rulls' [The girl from the Ampurdàn, 1926] and thought: "Isn't she beautiful?"; "Is the building with the three windows a little church?"; "The painting cann't do without that one stone at the bottom"; and more. After that, he looked at Dalí's 'Torero alucinogeno' [The hallucinating bullfighter, 1968-1970] and thought: "I see the face of the bullfighter" and "What is the little boy used up the painting doing?". He talked with someone about many details in the painting and wondered: "Do I see a drinking Dalmation used up the water surface?". During his "Florida season", he went back to the museum once again. He did two courses at the University of Florida.
In 1989, he took a certificate to proof that he has passed his Master's in Tax Law in Leyden. In the years 1989-1990 he had a temporary employment contract as assistent-tax counsellor at KPMG Meijburg & Co, Rotterdam, The Netherlands.
He didn't know what happened, and left The Hague, his residence then, to go back to Oss, in where he lived before.
In 1991, he suddenly felt a strong urge to paint. He then painted 'Die näherbringende Frau' [The giving woman].
In 1993, he was appointed clerk of the court at the Court of Justice in 's-Hertogenbosch, The Netherlands. In 2016, he was granted discharge there. In the meaning period, he kept on painting.
Paul found out abstract figuration: 'The exterior of my interior shows I'm actually making the exterior'.
El quatro siempreviva!
To visit the blog by Paul us Spijkers, press blog for a pullout after having pressed the Dutch flag above left. You may always return to the English language by pressing the Union Flag back again.