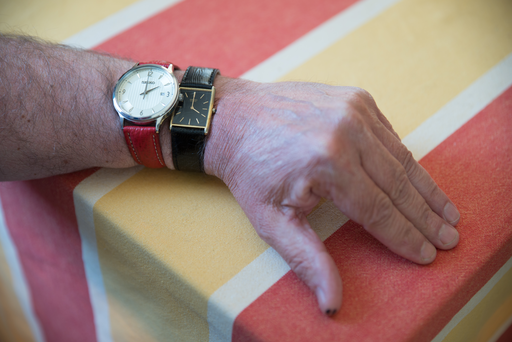 It's also beautiful to paint devastating: revisionism by Paul us Spijkers
[Revived version expected]
During my college days (1985-1989), I, Paulus J.J. Spijkers LL.M. (1961, 's-Hertogenbosch, The Netherlands), studied the science of law at Universiteit Leiden (Leiden University, The Netherlands).
In 1988, I was in Gainesville, Florida, United States of America, for a course at University of Florida, College of Law, together with 24 other Leiden students. During that period, in Dalí Theatre-Museum in Saint Petersburg (Florida), I looked at a painting by Salvador Dali, 'La noia dels rulls (1926)' [The girl from Ampurdán] and thought: "It is mysterious to look at the back of that girl!"; "What kind of building is it, with the three windows?"; and "Why has one stone been made visible?". After that, I looked at Dali's 'Torero alucinogeno (1968-1970)' [The hallucinating bullfighter] and thought: "I séé a hallucinating bullfighter!". After I talked with someone about the painting, I wondered: "Has the drinking Dalmation been made visible?"; and "Is the little sea scout invisible to me?". During my Florida season, I went back to the museum once, and then thought: "I want to do that too!". I did two courses at University of Florida.
In 1989, I took a certificate to prove that I have passed my Master's in Fiscal Law in Leiden, with the judicium: without any problem. In the years 1989-1990, I had a temporary employment contract as assistent-tax counsellor at KPMG Meijburg & Co, Rotterdam, The Netherlands. In 1990, I left The Hague, my residence then, to live in Oss, in which city in The Netherlands I now have a house with a studio.
I didn't know what had come over me (in Florida). Anyhow, in 1991, I suddenly felt a strong urge to paint. I then painted 'Die näherbringende Frau' [The giving woman].
On March 1st, 1993, I was appointed acting clerk of the court at Court of Justice in 's-Hertogenbosch, The Netherlands. There I started at the division for fiscal cases. Whereas, also at the court, I could concentrate on criminal cases, the idea became stronger, that the [formal] jurisdiction could not offer the chances to bring permanent conformity with my ideas concerning right and those of the Dutch justice (then). In 2015, I was honourably discharged from service at that place. In the meaning period, I kept on painting.
On March 16th, 2020, after breakout of the coronavirus, I completed the painting 'Subliminal night'.
My only way of painting is the reproduction of revisionism: a manner to show progressive timelessness.
Since 2015, I am a member of the artistic society K26 in Oss, The Netherlands.
El cinco Vivo!
To visit the blog by Paul us Spijkers, click Nederlands, then click blog (in Dutch text). You can always click English back again.
The trading name Paul us Spijkers is registered as one-man business in Handelsregister van Kamer van Koophandel (Trade Register of Chamber of Commerce in The Netherlands, (KvK)), with KVK-number 77566858.
Number of identification on sales tax (vat-id): NL003210563B45.
International Bank Account Number (IBAN) Paul us Spijkers: NL89 ABNA 0872 5645 92, Bank Identifier Code (BIC/SWIFT): ABNANL2A.